Shoppe Ramblings
2009
December 24, 2009.

We are taking a Christmas break in the shoppe and will be back in January. Please call or email for opening dates or if you want to make an appointment. We will be happy to meet you at Village Glassworks.

Merry Christmas and Happy New Year!




December 8, 2009.

We are into the countdown to Christmas at the shoppe and are featuring a couple of sales these next two weeks. This week we are offering 25% off Meindl figurines and next week (December 15th. to 19th.) 25% off all pewter.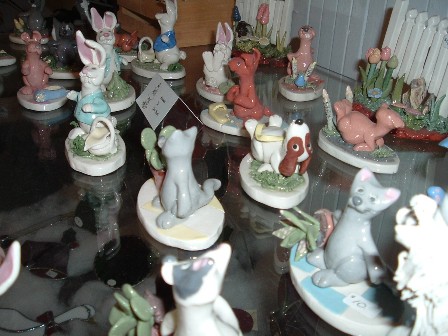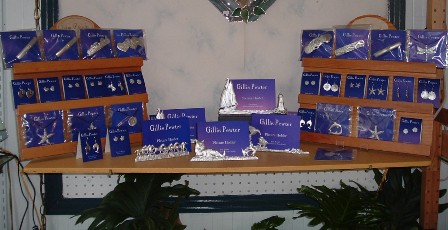 We are busy in the workshop too, creating just the right gift for you to give to your special people.


November 20, 2009
We have a trio of snowmen join us in the shoppe who are waiting for the winter weather because they
"want to go skating".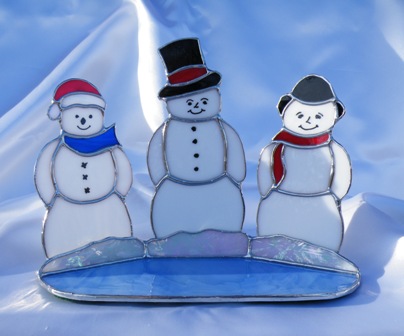 Each snowmen is ready to hang in the window or go to the pond.
Even though we are nearing the end of November there has been no snow or ice in New Germany, we are sure our snowmen will be skating this winter!
Drop by the shop and meet them.
October 8, 2009

Just finished a panel called Loon and Cattails. Made the same pattern last year but used a different colour combination for the sky and water this time. One of the most interesting things about stained glass work is the effect of changing the glass colours in the piece. Here's the comparison: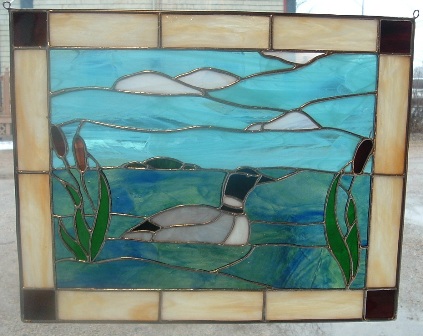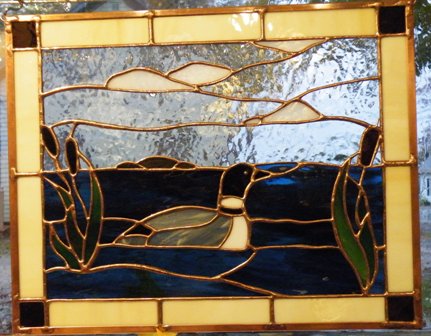 September 9, 2009

This will be the Summer of the Garden Stake here in the shoppe. We designed 8 stakes including 2 butterflies, a hummingbird, dragonfly, three veggies and, to shine over all of them, a sun.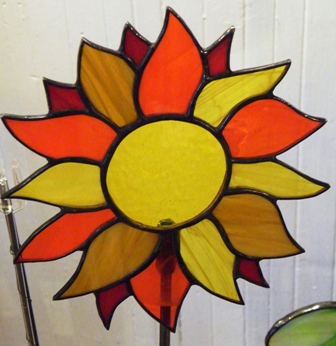 The gardening season is slowly coming to a close for this year but this garden art can be put away and returned to the garden for many more growing seasons.

Soon our big shoppe window will be full of colourful leaves as we look forward to autumn of 2009.
July 11 2009
.



Our newest creations are stained glass garden stakes. We are presently offering 6 designs with more to come. They are a perfect complement to your garden or a great gift for the gardener in the family.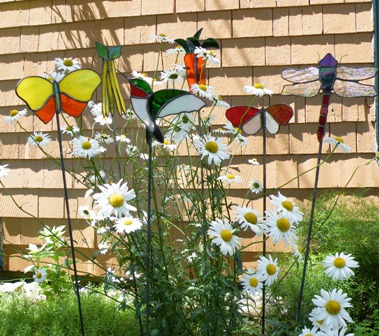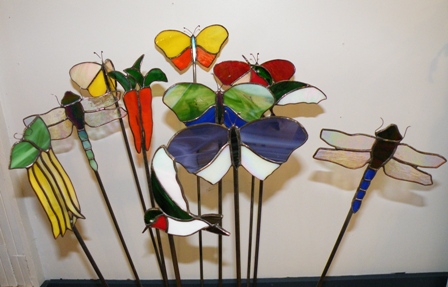 June 20, 2009
.
The community of New Germany and area celebrates Canada Day with breakfast, parade, garden party,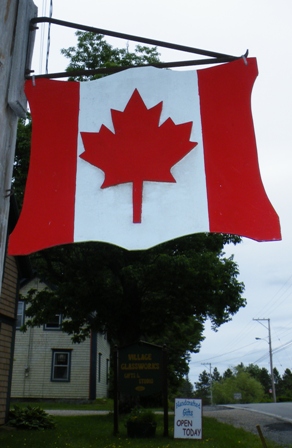 supper and fireworks. The committee hangs wooden flags all over the area including by our shoppe.

To get into the celebrations we have been making stained glass maple leaves and hanging them in the front window.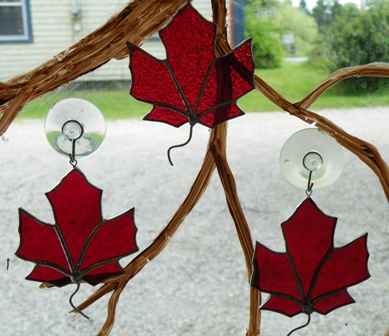 If you find yourself in the area on or near July 1st. stop by and check them out.
June 12, 2009
.

It is soon officially summer around here. Lots of flowers in the garden have bloomed and soon the annuals will begin their yearly show.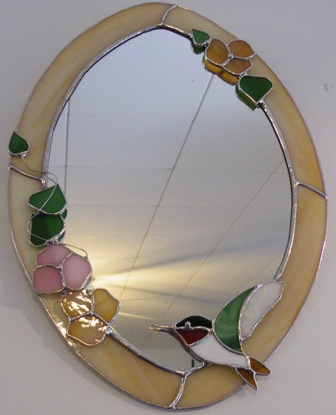 In celebration of the return of the hummingbirds, we have completed a new mirror design.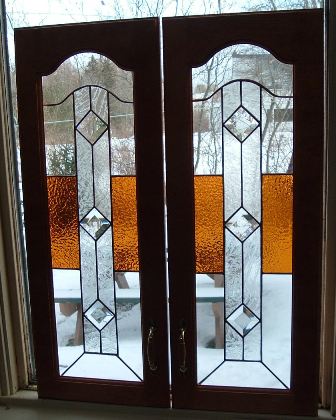 Earlier this year we made a set of cupboard door panels. Projects like these will qualify for the Federal Home Renovation Tax Credit
May 5, 2009.
After some vacation time and out of shoppe meetings, we are back cutting glass.
One of the lamps recently completed is a favourite pattern in a new colour combination of navy and rust with a caramel highlight, creating a deep toned, elegant look.
We have this lamp displayed on a base but it can also be hung as a swag.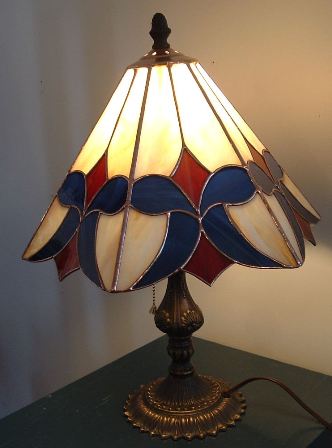 P.S. This might be the year to get that new stained glass lamp or window and take advantage of the Federal Home Renovation Tax Credit

March 20, 2009
Happy first day of Spring. No snow and even some sunshine today.
Just finished and hung a new lamp in the front window of the shoppe. Last year we made a custom mirror for a Bay of Fundy sailboat. The mirror featured a humpback whale and a pair of porpoises. This we have taken those designs and featured both of them on a lamp.
Watch for several more new lamps coming soon.


January 27, 2009.
The inventory is counted and the book work for year end is almost completed and we are back in creative mode. We have just finished a pair of stained glass panels for cupboard doors and have recently got out the Valentine patterns to cut some hearts.

We make at least 10 different kinds of stained glass hearts, so if you are thinking Valentine's gifts check our selection.

We also have a variety of other gifts suitable for Valentine's giving.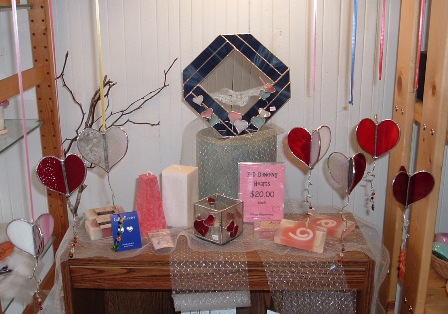 See Shoppe Ramblings from 2007 -2008