Shoppe Ramblings
December 23, 2014


Only one more working day until Christmas.
The shoppe will be open on Christmas Eve until 2:00pm and then closed for the holidays.
After December 29th we will be open by chance or appointment.
Please call if we can help you.
Merry Christmas
See you in 2015!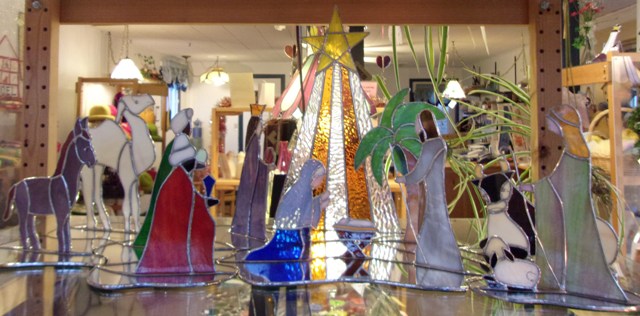 December 15, 2014


Only 9 days until Christmas. We continue to craft beautiful stained glass creations for your gift giving this year. Also we have a great selection of other handcrated itemes such as felted hats, book beads and pewter from Gillis Pewter.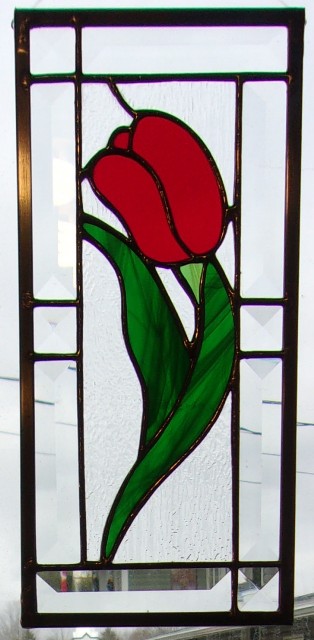 November 27, 2014
Next Friday and Saturday, December 5th and 6th, we will be having a Christmas Open House. There will be refreshments, a colouring contest and a gift for the first 10 customers each day.
Michelle Greek of Discovery Toys will be here too.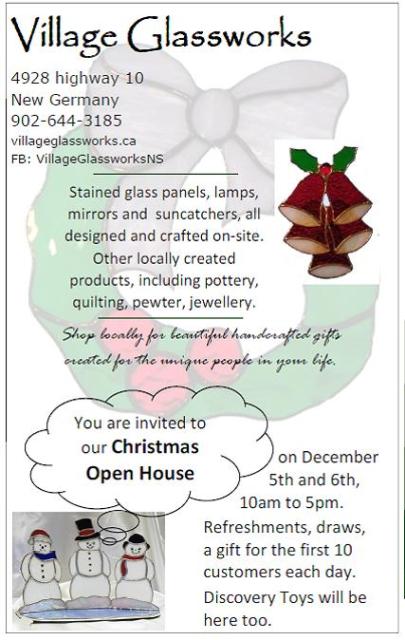 November 7, 2014

Just finsihed a couple of panels to hang in the windows in the shop.
The autumn tree was first and then back to flowers with the iris and the rose in vase.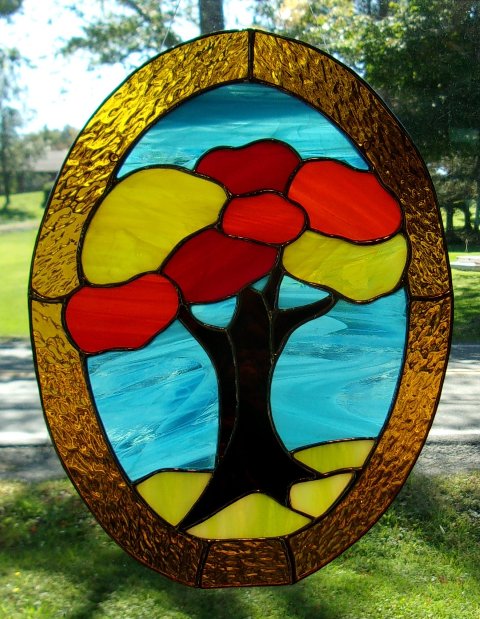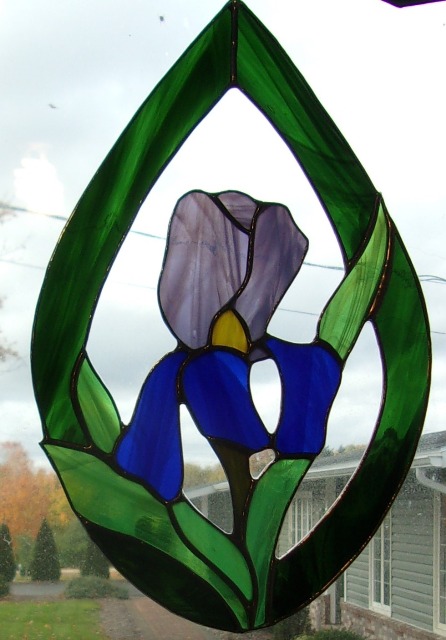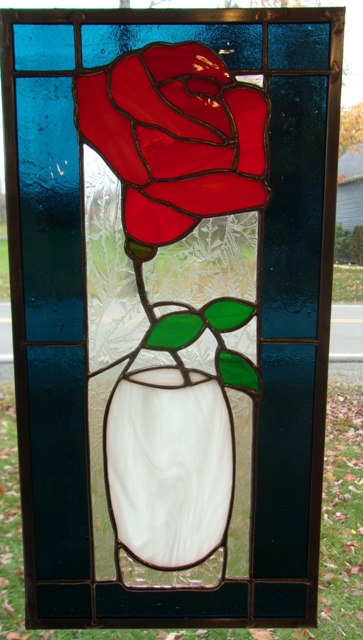 September 1, 2014



Next Saturday, September 6th, we are having our first art show at the shoppe.
Mary Sims-Morey will be opening her show "Faces from the Coop" at 10:00 am. The show is a collection of "classical" portraits, with a variety of chickens as the subjects. Plan to drop by, talk to Mary, and enjoy looking at her newest work. The show runs to September 13th during shop hours.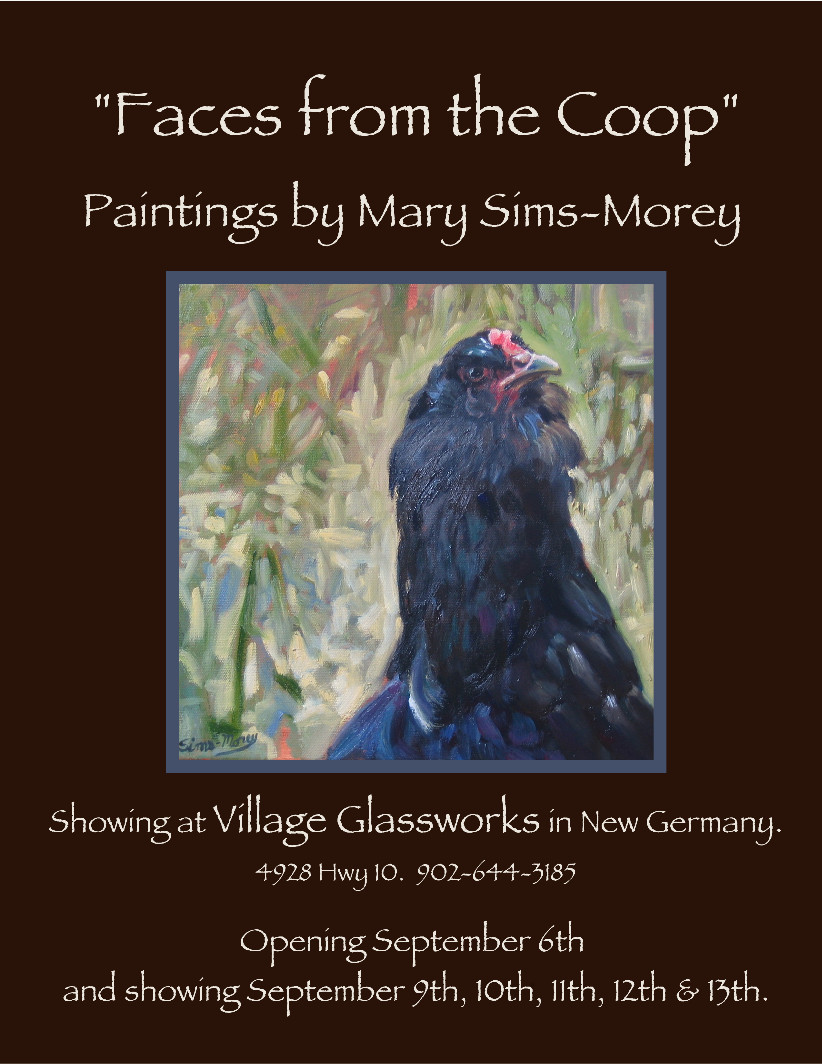 July 4, 2014

Just finished and hung a new lamp in the front window. This lamp uses a piece of green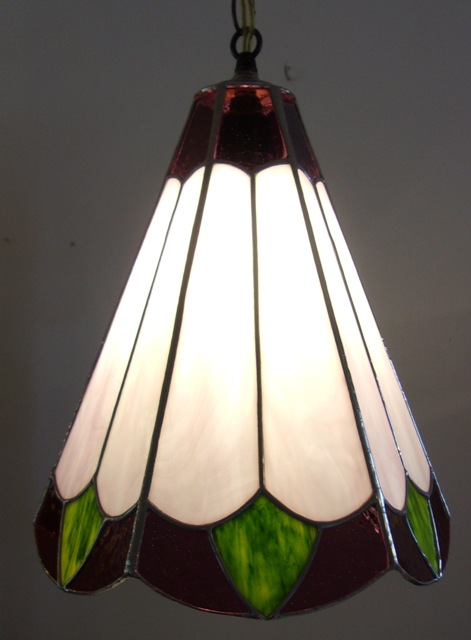 glass that we have had in inventory for years. The challenge was to use it so that it became the focal point of the piece.
I am plesed with the finished product!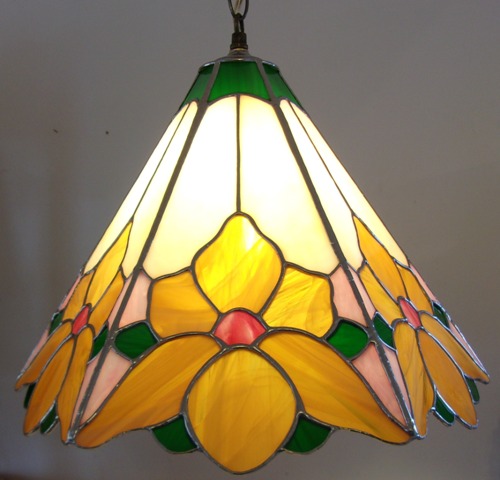 Here is another lamp we recently finished. It is a design we had made previously but have used different colours.
May 15, 2014
Today is the 30th anniversary of our shop in New Germany. We opened our doors on May 15th 1984. We started in the stained glass business selling at craft shows and in the summer of '83 we had a shop in Broad Cove at a friend's studio. On our property in New Germany there was a building which had been used as a shoe repair shop, mail carriage storage and a home for many families over the years. We began to renovate and in 1984 opened for business. We have continued to change many other things about the shop including adding more room and moving the entrance. Here are a couple of pictures, obviously taken before digital cameras.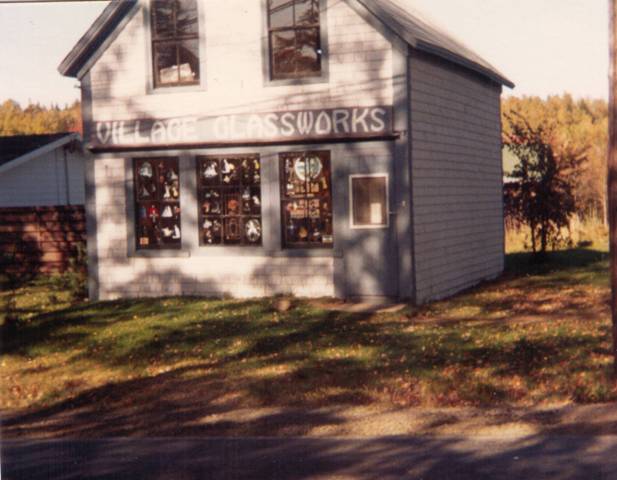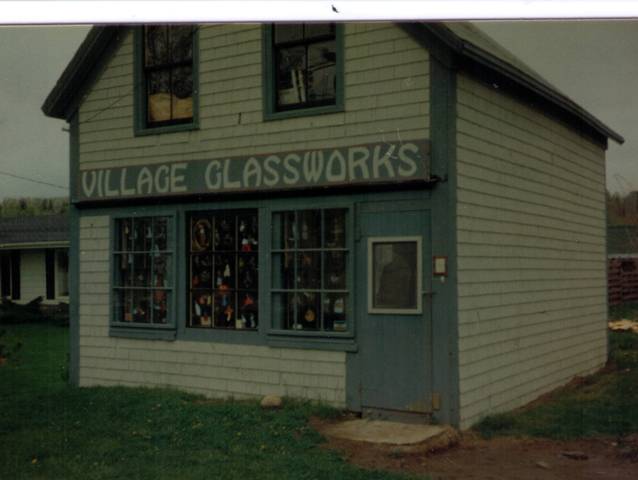 As part of our celebrations we are holding two draws, giving away a $30. gift certificate to be used for any glass purchase in our shop. If you are on facebook, just like the gift certificate post and your name will be entered in the draw. If you share the post you will get two entries. Contest will run for one week and close on May 22, 2014. We are also doing an in-shop draw for a $30 gift certificate. Just drop by our shop to enter, no purchase necessary. That contest will close on June 15.
April 21, 2014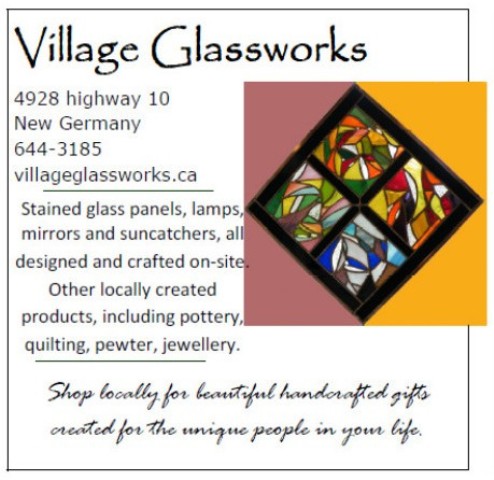 Check out our ad in the April edition of New Germany Connections. If you didn't get a copy you can read it online at the New Germany Area website. Click on New Germany Connections on the left.
This issue is full of interesting articles about our corner of the world. Probably one of the best ones yet.
April 9, 2014

We have invited Michelle with Discovery Toys to join us at Village Glassworks for an

Easter Open House

on April 19th. Michelle will be showing the new Spring and Summer collection of toys as well as offering a chance to win a $15.00 gift certificate for Discovery Toys.

Check out the stained glass Easter Egg tree in the front window of the shop.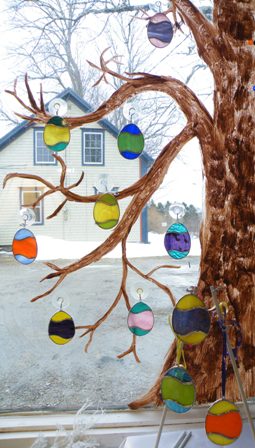 Join us in welcoming Spring!
February 19, 2014.


Even though it keeps snowing in New Germany, we keep plowing all that white stuff aside and are open.

Recently hung several new panels in the front windows.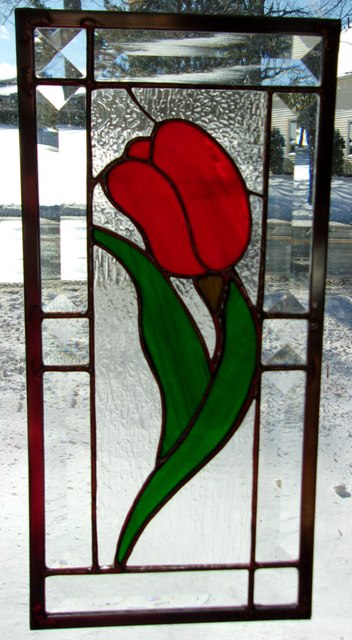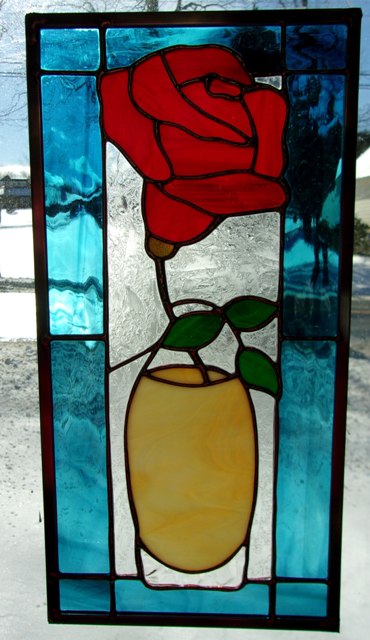 We have made these designs previously, slight changes in glass colours. It is fun to make flowers in the winter, dreaming of spring when we get see the real things. Check out the Stained Glass Panels page for larger pictures and more details.
February 2, 2014
We have had a number of snow storm days here in New Germany, but we are still open if you would like to drop in.
And the Valentine's Day display is in the front window. There are lots of stained glass hearts in stock and we are working on even more.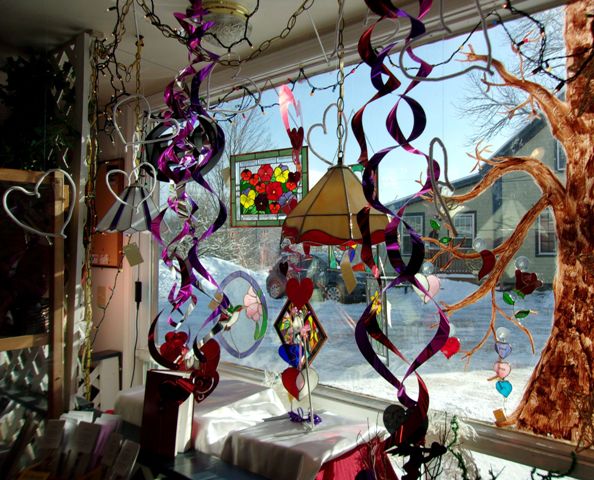 You can treat your sweetheart with a gift from Village Glassworks this year.
January 21, 2014

We are officially in our 30th year here in New Germany
. Our shop on Highway 10 opened on May 15, 1984. The years have gone by in a flash of colour!

The inventory is counted and we are back to cutting glass and working on orders. This week we are featured in a story in our local newspaper The Lunenburg County Progress Bulletin. If you want to check out the story it is in the Business section.